[Later note: Oops. Ran St. James twice. The pictures were small! There are so many buttons! Kudos to my wife for catching it.]
Most small Illinois towns were big at one time. Whether as important stops along the railway lines or the I & M Canal, they had their day, enjoying boomlets of prosperity before quieting down.
Lemont, IL, was one such town, doing quite well as a producer of limestone (along with its neighbor down the canal Joliet, IL), quarrying and selling it under the brand name of "Athens Marble" (Athens being the town's original name—side note: Joliet was formerly called Juliet). Both towns enjoyed the largess of the last few Ice Ages, when, over 400 million years ago, Illinois still rested underwater. Uncountable plant and animal shells floated to the bottom over the eons, creating large deposits of what came to be called Sugar Run Dolomite. This "limestone" was a popular building material of the time, but transportation costs made it difficult to sell outside the immediate area. Then the I&M Canal was built, and limestone could be easily shipped upstream to Chicago—the city's own underground stores of limestone being of poor building quality. Historically, Juliet/Joliet had the idea first—selling their own "Joliet Limestone"—but more deposits were discovered in the Lemont area during the digging of the canal in 1846, kicking off the town's own quarry industry.
Naturally Lemont, Joliet, Lockport, and other surrounding towns used limestone in their own building projects. My original purpose for visiting Lemont was to track down some dead pioneer relatives at St. Patrick's Church's Catholic Cemetery outside of town ("Right behind the Hindu temple!" as the nice folks at the church explained to me). Performing research on the Ray and Hennebry side of the family led me to discover the town's own history, and impressive architectural legacy. Lemont, for example, boasts 38 limestone-faced buildings in their downtown area, including several churches and city hall.
St. Patrick's Catholic Church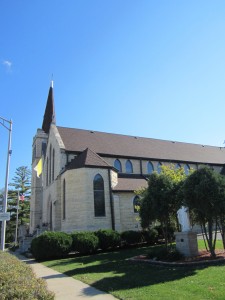 St. Matthew's Evangelical Lutheran Church
The Old Stone Church
(Former Union Army recruiting station during the Civil War, and current Lemont Historical Society building)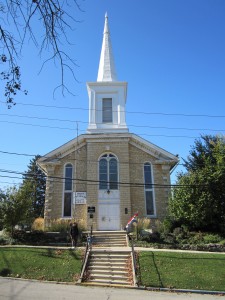 More famously, Joliet Correctional Center (former residence of Leopold and Loeb and other famous felons), created by architect William W. Boyington (who also designed the front gate at Rosehill Cemetery and another famous structure to be mentioned below)  was similarly constructed of the stuff.
As for the Chicago connection, residents and visitors may recognize a few of the following structures, raised and faced with Lemont's famous limestone.
Chicago Water Tower (Built by William W. Boyington)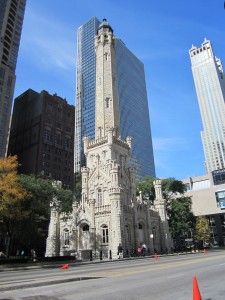 Holy Name Cathedral
St. James Cathedral
Courthouse Place (Not so coincidentally the location of Leopold and Loeb's trial)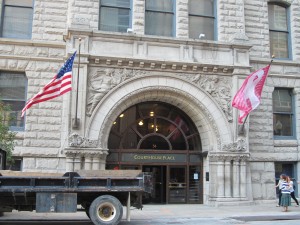 More information on Joliet and Lemont Limstone here!