Unbelievable: Remembering Chicago's Ripley's Believe It or Not! Museum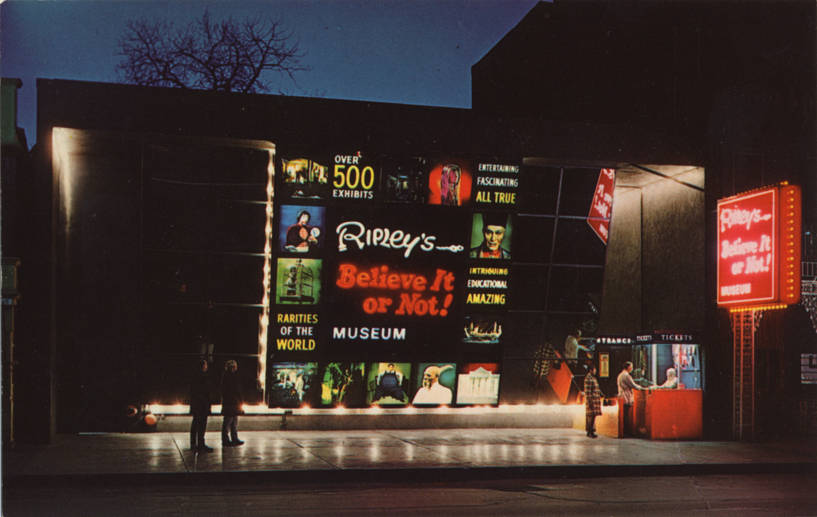 The long-gone Ripley's Believe It or Not! Museum on Wells Street was my first direct exposure to humanity's heart of weirdness. I'm not exaggerating when I describe my visits to the place as transformative.
From an early age I've always liked strangeness. If it's scary, unexpected, or bizarre, I'm fascinated by it. Some kids were jocks, others were nerds. I was a weirdo. Over time, it reflected itself in my readings, writings, and collections, giving pause to peers and family members who practiced normalcy. Whenever my father questioned my peculiar interests though, Mom would level her gaze and answer, "Well, Berni, he came by it honestly. "
Too true. On the surface, Dad is a respected businessman and public servant, but from an early age he'd introduced me to plenty of oddness through the personal library he maintained in his basement den. Among the sci-fi and apocalypse-themed fiction, comic strip collections, coffee table editions of old-time Hollywood and horror films, and books covering disaster, war, and other fun stuff, he favored books about the strange and anomalous. We've never discussed why, but we really should. It may explain why, during my formative  years, I never indulged in the more obvious rebellions like funny haircuts, confrontational fashion, or substance abuse. Unusual was my normal. I assumed everyone's dad was like mine—an intelligent and benign weirdo. Like father, like son.
Among Dad's books were several paperbacks reprinting the cartoons of Robert L. Ripley. I pored over them during my most gullible childhood years, when Bigfoot, the Loch Ness Monster, UFOs, and King Tut's curse seemed utterly plausible. I was likewise fueled by readings of DC, Marvel, Charlton, and Gold Key horror comics—through which the Ripley Company published a terrifying (if you're nine years old) collection of "real" ghost stories. Really, my parents should have known better.
How appropriate then that Dad accompanied me on one of my only two trips to the Ripley's Believe It or Not! Museum on Wells Street, toward the tail-end of the 70s. Some dads took their kids to ball games. My dad took me to Ripley's. I recently asked him if he remembered our visit. Yes, he did, but he couldn't provide any specifics. No doubt he simply stood back and let me delightedly run from exhibit to exhibit, agog at the displays of shrunken heads, creepy wax figures, brutal weaponry, and other esoterica. I remember every step. I revisit the museum in my dreams.
And I thank him for it.
Perhaps I exaggerate. Back then, a visit to the Ripley's Believe It or Not! museum wasn't too out of the ordinary. If you're a Chicago kid, there are certain inevitabilities. You liked the Cubs or the White Sox (or, in my case, could care less). You eat your hot dogs with ketchup until age six, before city ordinance banishes the condiment from your red hots forever. And through parental visit or school outing, you end up taking field trips to several locations. The Museum of Science and Industry, for which most Chicagoans my age (45) have fond, fearful memories of the older, darker place, featuring the futuristically gloomy "Hooray for Petroleum!" exhibit/ride, the grim yet loud coal mine, and the giant, walk-through fiberglass heart. Lincoln Park Zoo is another destination, though you may have—as in my southwest suburban case—ended up at Brookfield Zoo more often because parking was easier. The Field Museum is dinosaur bone Mecca for Chicago kidlings, and a trip to the nose-bleeding summits of the John Hancock and Sears Tower were always de rigueur. Some places are no longer with us. As my parents remember Riverview, so I recall Kiddieland, Old Chicago, and Santa's Village. Gone, gone, gone.
Such was the case with the Ripley's Museum, another faded field trip memory. Not to be overly dramatic, but it was an experience today's kids can't have without mixing a hodgepodge of disturbing exhibits from the MSI, Field Museum, and International Museum of Surgical Sciences, with a few haunted house props and sideshow  and tropes thrown in.
Or, you know, visiting one of the several other Ripley's museums across the world.
But, dammit, this one was ours.
*****
The Man
If you haven't read the newspaper comics section or seen the TV shows, LeRoy Robert Ripley was a cartoonist, and Ripley's Believe It or Not! was the oddly popular comic strip that brought him fame and fortune. Supposedly born on Christmas Day 1890, in Santa Rosa, CA, Ripley had to grow up quickly after his father died. Peripatetic in employment from age 12 on, he took jobs as they came: unloading vegetable wagons, painting houses, polishing gravestones, and other scut work. Art and sports became abiding interests, and eventually he combined the two, pitching semipro baseball and painting posters to advertise the games. At age 14, he sold his first cartoon to LIFE magazine, and by 16 he joined the staff at the San Francisco Bulletin. Injured while trying out for the NY Giants in 1913, Ripley's baseball dreams ended, but his illustration career took off.
After working for several newspapers, Ripley became the sports cartoonist at the New York Globe. Working against a deadline in December 1918, and scrambling for ideas, he gathered unusual sports trivia about high jumpers, backwards runners, three-legged racers, and the like; illustrated the piece; and dubbed it "Champs and Chumps." A year later he revisited the idea, but wisely ditched the "Champs and Chumps" title and coined the snappier "Believe It or Not!". The strip caught on and was syndicated by William Randolph Hearst's King Features Syndicate. Eventually, Ripley was flush enough to buy a mansion—on his own island no less—and travel the globe, collecting weird stories and knickknacks like a freakier Charles Foster Kane (appropriately, his perambulations were also sponsored by Mr. Hearst).
With the help of his multilingual and wonderfully named research assistant Norbert Pearlroth, a staff of fact-checkers, and the many stories and photos sent to him by fans, Ripley presented bizarro trivia in illustrated form weekly, showing how commonplace oddness could be. How much of it was true? All of it according to the talented Mr. Ripley. But therein lay the brilliance of his catchphrase. You had the choice to believe it…or not.
Ripley lived weirdly and well before dying of a heart attack May 27, 1949, at age 58. He'd amassed and illustrated oddities for years  (though other artists took over the drawing duties), and by his reckoning, he'd traveled to more than 200 countries, playing the role of the eccentric explorer to the hilt by favoring pith helmets and bat-shaped ties. He was Indiana Jones without the doctorate or sex appeal (though his buck teeth and dumpy frame didn't prevent him from maintaining a string of exotic girlfriends, with several living at the Ripley manse at a time).
The comic was different from most sequential art in the funny pages, with neither a narrative nor a punchline. Just historical, scientific, and anthropological trivia accompanied by an extremely basic illustration. I'd also note that the strip addressed subjects usually off-limits on the comics page—death, war, disaster, murder, the occult, mental illness, extreme body modification, and more. Far Side cartoonist Gary Larson once joked about the absence of human skulls from the comics, but Ripley's Believe It or Not! had posed corpses between Peanuts an Doonesbury for decades.
The strip was educational in that it taught you things you didn't know, but its knowledge was mostly applicable to barroom and playground conversations. Perhaps Robert Leroy Ripley never grew up, retaining a view of the world colored by pulp fiction, adventure yarns, and fairy tales. Small wonder then that the museums reflected this aesthetic.
*****
The Museum
The Chicago Ripley's Believe It or Not! Museum—indeed most Ripley's museums—was the sort of place a kid might curate: a weird kid fascinated by the extremes of humanity, nature, and existence. Before he died, Ripley started to move out of newsprint and publishing (with a few Vitaphone forays into film) and into the new medium of television. The new show, hosted by Ripley, didn't last, because neither did Robert L. Ripley. He collapsed on the set while filming his 13th show (one imagines he'd have appreciated the numerology) and died of a heart attack not long after. I don't know if he planned to open a chain of museums, but it's a fact that he didn't open any himself.
Chicago's Ripley's Believe It or Not! Museum wasn't the first. A year after Robert L. died, the first museum opened in St. Augustine, FL. By the time the Chicago museum opened its doors at 1500 N. Wells in 1968, Ripley Entertainment Inc. had already set up two others in Niagara Falls, Ont. and San Francisco, CA.
Chicago does have the distinction of hosting Ripley's first "Odditorium" exhibit at the 1934 Century of Progress Fair on Northerly Island. If postcards and other ephemera from the exhibit are any indication, the Odditorium was a literal freak show, featuring pieces from Ripley's collections, as well as living exhibits like Betty Lou Williams and her parasitical twin sister and Freda Pushnik, "The Little Half Girl Born without Arms or Legs." Other human odds and ends included Hadji Ali, a professional regurgitator; Andrew A. Gawley—who showed how easily he could feed himself with his artificial limbs; and "Ossified Harry," a "stone man" and likely sufferer of Fibrodysplasia Ossificans Progressiva (all can be viewed here). Indeed, it was a different time.
Jumping ahead 30 years, the Chicago Ripley's museum—to use real estate lingo—perfectly fit Old Town's "funky" "vibe,""man." I wasn't there in the 60s, of course, but most accounts concede that the neighborhood was Chicago's answer to both Haight and Ashbury and Castro Street. The neighborhood was a folkie and jazz hangout, artists' haven, and proto-Boystown. Long before Portland and Austin kept it weird, Old Town already was. Eventually, the area became a strange amalgam of adult entertainment businesses, hippie hangouts, tourist traps, and the like. When the Ripley's Museum opened, Second City had been in business up the street at 1616 N Wells St. for nine years. Everyone from Steve Goodman to Janis Joplin to Miles Davis played the clubs up and down Wells. Down the street one found quirky shops, boites, and entertainment spots like the Royal London Wax Museum, Crate and Barrel's first store, the Bijou Theater, and the Old Town School of Folk Music back when it was an Old Town folk music school.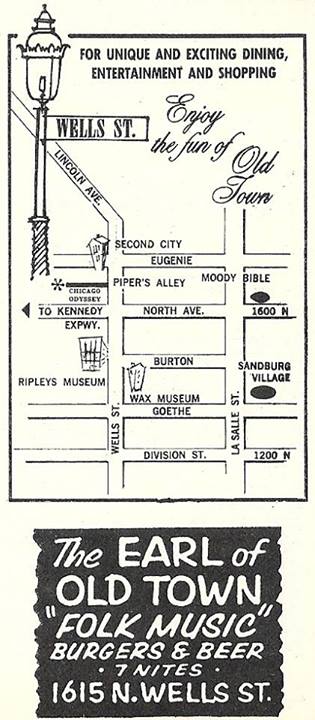 The museum fit right in, standing out amidst a sea of roadside glitz. Modern Ripley's museums like to look weird. They feature "collapsing" facades, "crashed" airplanes, sharks sticking out of the walls, and whatnot. The Chicago Ripley's went for a cooler, darker look. The facade was extremely basic, yet striking as hell, fronted by a large illuminated sign of smoked glass and backlit images of the treasures to be found within: Weng the human unicorn; glowering Loo Min, the double-eyed man; an Ecuadoran shrunken head; the White House "made" of dimes; Grimaldi, the saddest of sad clowns; and more glowed luridly onto Wells Street. Slight changes were made to the signage over the years, as testified by the postcard up top and the screen capture below from, of all things, a Wilford Brimley movie: The End of the Line (now appearing on YouTube and, if you can find it, VHS).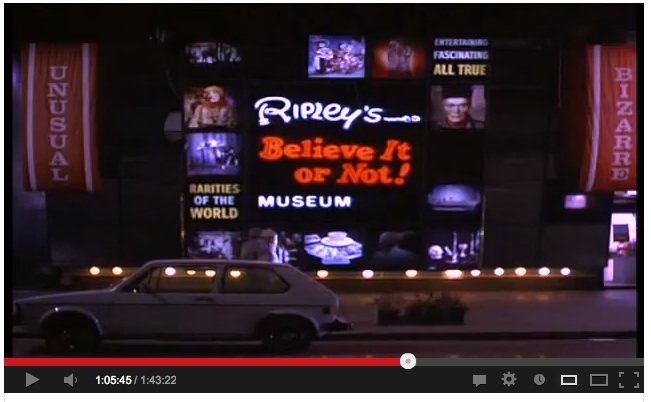 The museum opened with a party on the evening of November 21, 1968. Reportedly, more than 500 people showed up. The Trib article covering the gala opened with the memorable optical illusion that greeted thousands of visitors in the lobby for the next 19 years: a giant floating faucet (see photo, snapped by Mr. Bill Rebel in 1976, and graciously donated to this piece). Seemingly suspended in mid-air, the faucet spilled out a thick and endless flow of water into a pebbly pond. It was a simple illusion. A tall, transparent pipe held the faucet in place by the nozzle, blasting water upwards that immediately gushed back down the sides, covering the pipe. As a special effect, it was pretty neat. My classmates and I gaped, trying to find the source of the flow. We knew it was a trick, but we suspended our disbelief even higher than that faucet.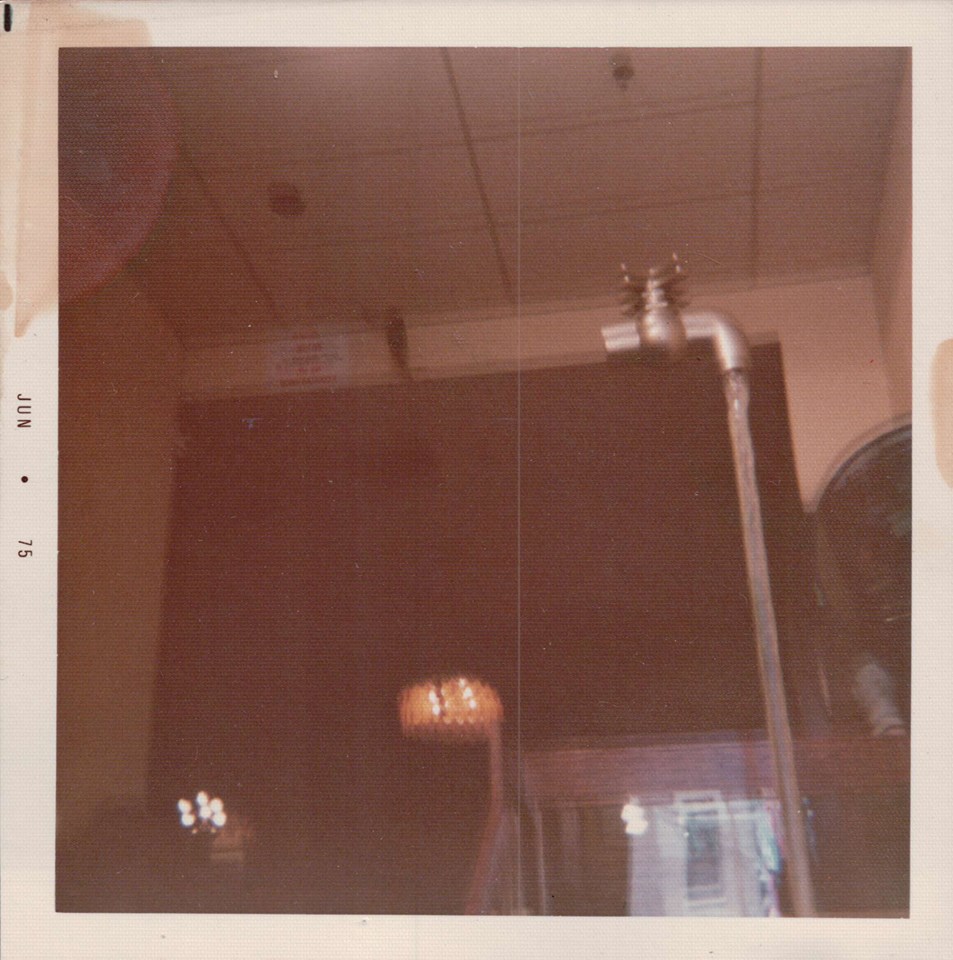 The Trib's party report provided a familiar litany of attractions mentioned in future articles. The 5.5 inch violin (that plays!); the grain of rice—inscribed with the alphabet!; a miniature gun!; a life-size mahogany statue of a headhunter!; the largest pair of women's shoes in the whole wide world!; and (gasp!) a two-leaded pencil!. Tenth century Chinese politico Lie Ch'ung (aka Loo Min) the man with two sets of eyes stood by, doubly glaring and rendered in creepy wax form. Slight mention is made of the Ripley Catacombs, the lower area where Ripley's spookier paraphernalia—the execution and torture devices, the graveyard of wacky epitaphs, and shrunken heads—were kept.
Opening night was a hit, and the museum did presumably well enough with the locals and tourists over the next year to draw the attention of the local hoodlums. Things got exciting on July 14, 1969, when two men forced assistant manager Pat Tiemann to open the museum safe and stole a thousand bucks. After that, news items about the museum over the next few years are surprisingly unremarkable. On October 11, 1969, the Youth Guidance Council held a party in the Catacombs… to discuss plans for another party. Amidst the styrofoam gravestones for John Yeast ("Pardon Me for Not Rising") and an Atheist ("All Dressed Up and Nowhere to Go"), the council decided to invite Al Hirt to play their "Mardis Gras Carnival" at another famed Chicago weird spot, the Medinah Temple. The social column provided no specifics about the nature of the event, other than that Hirt's poster was tacked to the wall near the grave of Lester Moore ("Here lies Lester Moore, Four Slugs from a .44, No Les, No Moore").
A few years passed before the museum popped up in the news again. By the mid-70s, it'd become an off-the-beaten-track place—a weird, kitschy alternative to the usual family excursions and a spot for thrill-seekers. At the same time, management took pains to avoid looking cheesy and/or sleazy. For instance, the November 1, 1973 Trib ran an unusually promotional, not to mention defensive, piece titled "Ripley's Business Is Booming." We are informed that:
"Ripley's officials are sensitive to any implication that they adversely affect an area, or contribute to a 'honky-tonk' atmosphere."
Adding:
"They note that Ripley's left…Times Square because of a changed nature there." (they've since returned, ever since the area experienced another nature change by transforming from a tawdry hellhole to a Disneyfied heckhole. It's a telling article, marking a shift in the nature of the neighborhood and the surrounding area. It certainly wasn't fair to criticize Ripley's for turning Old Town into a somewhat musty/seedy gathering of porn shops and triple-X theaters. Old Town did that all by its lonesome.
Following that, my most distinct memory of my first visit was of a giant showgirl painted alongside, I assume, the building at 1447 N. Wells St.—tassels, g-string, top hat, and not much else. As we arrived and parked outside the museum, the boys of St. Damian caught sight of the two-story sexpot and went wild. Myself—less sexually mature than my fellows—I was more startled by the museum itself.
It seemed large to me, but I was smaller then. A skinny Irish-Catholic-American lad from the southwest burbs. The angel-food of my childish innocence was marbled by a chocolate streak of sadistic curiosity. I didn't blast toads with firecrackers like the nasty kids down the block, but I still stood amazed at that which was gross, scary, and evil. I think Catholicism primes you for it.
I recall a hurried experience. Probably because there were 50 or more of us. I don't remember which teachers took us or, certainly, why they took us there. Maybe the teachers and principal were as sick of the MSI and Field museums as we were. The trips I best remember were the out-of-the-ordinary ones. Ripley's; Frank Lloyd Wright's Oak Park home and studio; a tour of Hyde Park culminating in a stop by Lorado Taft's Fountain of Time and Muhammad Ali's mansion, the bus driver joking that the Champ said he could stop by any time, but, unfortunately, no one was home that day. Darn. We didn't see or hear-tell of such things in our post-war, organization-man suburb.
I don't remember the exact dates I first visited the museum. I'm pretty sure both visits happened in 1979 or 1980. The first time was a school trip; the second time my dad drove us up to Old Town after I begged him to take me again. Here's how I remember my visit.
(Note: I still have a museum guidebook in my possession. Foxing and falling apart everytime I open it, it's a cheap little print job—filled with black and white photos. A photocopied 90s zine would have better quality pix, but unless a family album filled with Instamatic prints or Polaroids turns up, it's the best visual record of the Chicago Ripley's museum we have left. I've shared a few here.)
I recall the museum wasn't made for meandering. You ascended a set of stairs, turned, and then headed left at the first entrance. The path past the exhibits (most stationed behind glass, set in the walls trophy case style) zigged and zagged and turned, but mostly you walked in one direction from entrance to exit.
The first display was a wax statue of Mr. Ripley, sitting at his desk, poring over stacks of letters and photographs. As I recall, it looked nothing like the man. I still found it fascinating—this balding, anachronistically dressed fellow—taxidermied and propped up like the extinct beasts at the Field Museum. The statue was accompanied by a more sanitized version of the Ripley bio I provided above.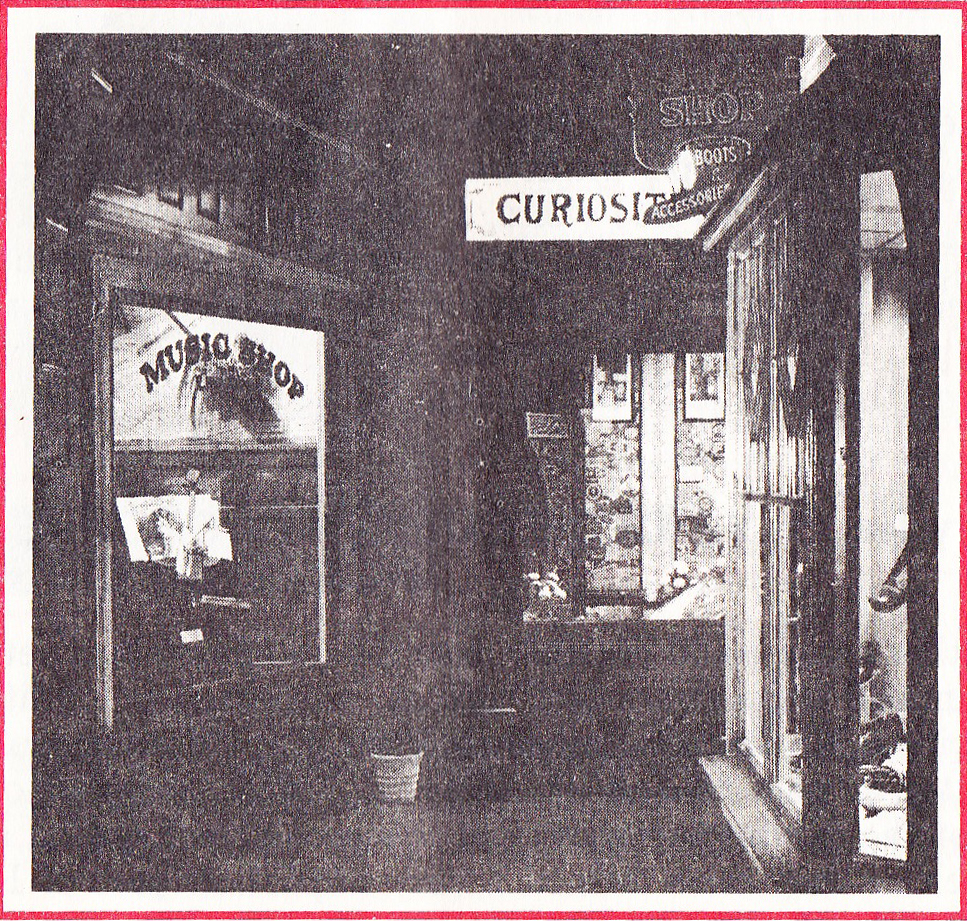 After Mr. Ripley you came to the Crooked Lane section (I think; something tells me the Circus Sideshow section came first…but that's just conjecture). The Crooked Lane confused me. The guidebook claimed "our street is…crooked, but straight" (meaning true). My schoolmates and I wondered if, through trickery, the jagged path before us was some kind of optical illusion. Neither irony nor subtleties of language had come to Oak Forest yet. In memory, I think I've conflated the Crooked Lane with the Museum of Science and Industry's Yesterday's Main Street exhibit. I suspect the resurrection of yesteryear through Ye Olde shop fronts was a museum trend at the time—they pop up in museums more often than you might imagine. The Crooked Lane's exhibits were presented through similar old-timey shop windows, on a cobbled street shrouded in simulated gaslight.
Most of the museum's non-creepy exhibits were on display here, though the occasional horror crept in. The Boot 'n' Shoe shop displayed "Scandinavian peasant's slippers made out of tree bark"; Henry VIII's nausea-inducing "gout shoes"; the aforementioned size 28 ladies shoes; and a "sabot," a wooden shoe supposedly useful for destroying machinery (hence, "sabotage"; someone contact Mythbusters). One memorable exhibit was the $50,000 shoe. Made from the shredded remains of old US bank notes, it was a testimony to Ripley's status as a weirdness/useless crap magnet. Employees at the US Treasury Department took the shredded remans of old bills, presumably glued them into shoe form, and sent it to him—for some damn reason. I remember it sitting under a single light, presented like the Hope Diamond. Truthfully, it looked like a baby shoe that ended up in a dog's mouth. More than anything else in the museum, this exhibit made me ask "Why?" Did the Treasury frequently make greenback shoes? Have they made more since? To quote Robert Ripley, "I have found no greater oddity than man!" In the case of the frivolousness and vapidity of the $50,000 show you have to sit back and wonder what the hell its creators was thinking.
The music shop featured the world's smallest violin, not sarcastically playing its sorrows for you. It seems Ripley's Entertainment Inc. has an even smaller one now, measuring at a centimeter in length. Moving on, Ye Olde Curiosity Shoppe brought the thunder. Displays included the katar, a knife resembling a psychotic set of triple-bladed garden shears that one would fold up, stick in the victim, and let spring open to release a geyser of human giblets. Then there was the Tibetan human skull bowl ("made from the skull of a saint"!), and a human skin mask from the Ekoi tribe of Nigeria. Yikes. Ripley collected such things back in the days when importation and customs laws were more relaxed. According to Wikipedia, shrunken head importation has been illegal since 1940. Sorry, I don't feel like calling US Customs to confirm that, but their site indicates they've been asked before.
Not every exhibit was yucky. In fact, Ripley had an eye for banal wonders. The museum held "A Shoemaker's Hammer, used continuously for 37 years." Want more cow bell? The museum held Ripley's prized humongous Indian oxen bell, which he used as a dinner gong. Out of the ordinary but hardly earth-shattering was the aforementioned "Pencil with Two Leads." Truly messed-up was his collection of miscellaneous metallic crap found in cows' stomachs by two earnest Nebraskan abattoir employees. For an extra touch of strange, the collection of "Bullet shells, pins, keys, bottles, screws, nails, buttons, wires, chains, coins…" were arranged in cow-shape on a piece of metal sheeting, and held up by the industrial magnets used to clear cow guts of such scrap metal. Finally, the easily nauseated may have wished they'd avoided the alleged world's largest hairball: weighing five pounds and change and measuring 30 1/4 inches around. Educational!
As you turned the corner you found the Weird Arts Gallery, repository of common and now (perhaps justifiably) lost and/or unsettling arts and crafts once in the skill set of every homemaker. For example, the 19th and 20th Century human hair wreaths, woven by ladies of the day in commemoration of weddings and funerals. I was drawn to the miniature guillotine, a hideous, primitive, foot-high tiny instrument of death. Built by Devil's Island prisoner Eugene Roby out of scraps from the prison workshop, it was supposedly sharp enough to amputate a finger. You first.
Folk art got a fair showing at the museum, with apple-headed dolls, beef bone carvings, paintings made of cancelled stamps, a violin and ukulele constructed of spent matchsticks (yet playable!), and chains carved from blocks of wood. Along one wall were displayed several typewriter paintings—pictures made from typing with different color ribbons. Richard Guetl, a Chicagoan, contributed a truly amazing replica of the Columbian Exposition ferris wheel, made of liquid cement, ball bearings, and 14,000 toothpicks. Our ancestors enjoyed copious free time and fewer distractions.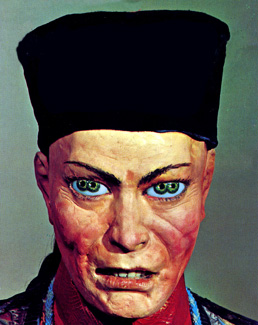 The deeper you went the more sinister things became. The World of Mother Goose and Circus Sideshow exhibits were inhabited by memorably freaky wax statues. Double-eyed Loo Min (aka Lie Ch'ung), "Governor of Shansi and Minister of State in 995 AD" hung out here. Loo Min's statue was a captivating if horrifying wonder in itself. Modern versions of the Chinese minister in other museums have a more benign and goofy countenance. The Chicago Loo Min was the personification of the Yellow Peril. Moreover, he became a kind of ambassador for the museum, turning up on their trifold brochure, business cards, and at least one comic book cover.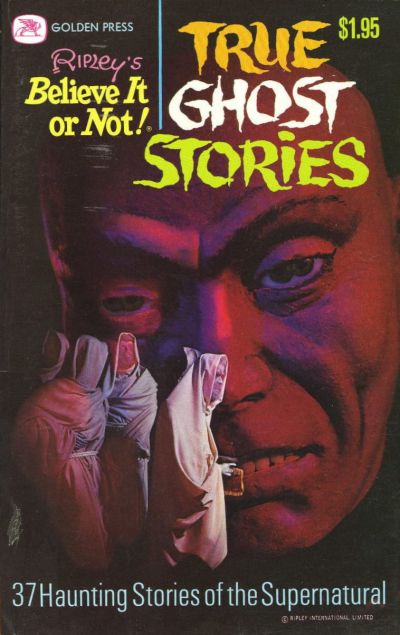 Loo Min occupied space with another Ripley's notable, the presumably non-wax two-headed calf. I'm convinced I saw the two-headed calf in a Lincoln Avenue antique store in the 90s, and my wife tells me she saw it during a house-walk in Logan Square, but I have no corroboration on that. Loo and the double-headed calf were joined by Grimaldi, the funniest, most depressed clown alive; Simon Pure (real name Simon P. Crone), a sorry bastard who'd never (in 1935) "seen an airplane, ship, wedding, ballgame, or a building more than four stories high…smoked, drank, gambled, danced, played cards, been married, engaged, had a sweetheart or been kissed in his life"; Demetrio Ortiz, who could spin 360° at the waist; Charles Charlesworth, the boy who died of old age at seven years old (likely progeria, except the statue and story presented the young/old Mr. Charlesworth as bearded); and Mother Biddy Cassels, who sat on a hundred chicken eggs until they hatched. A tape-recorded carnival barker yelped overhead, cracking wise about Loo Min "keeping an eye on the competition." Yeah, that level of humor.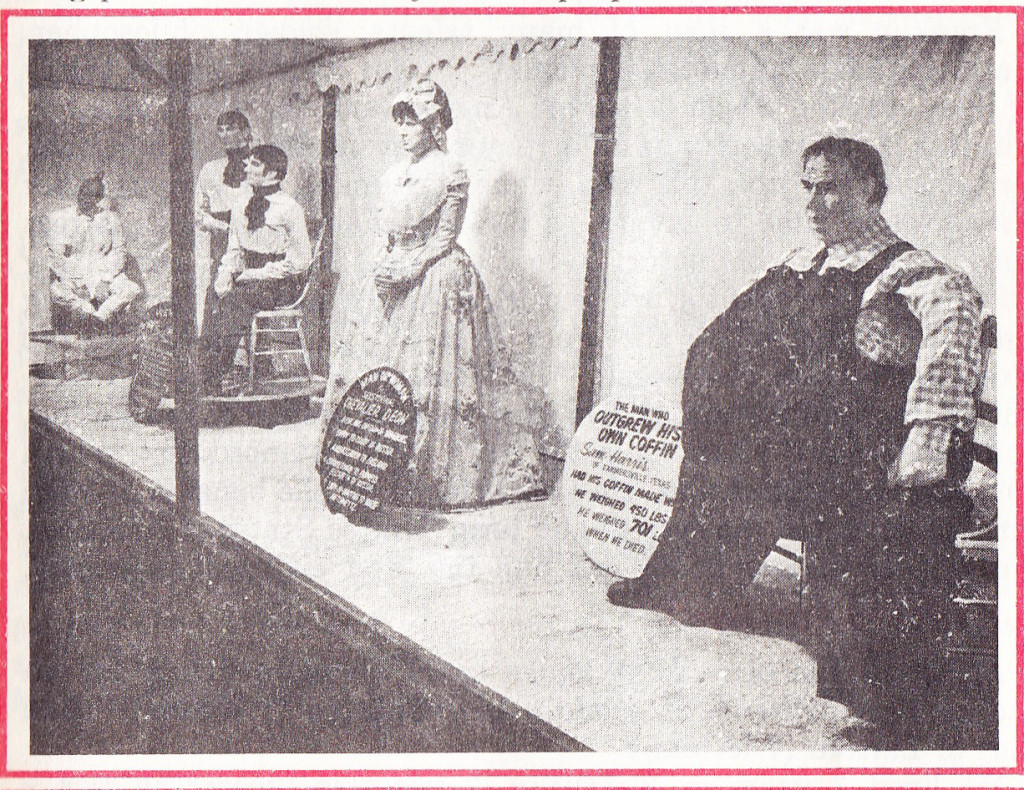 As you moved on to the Catacombs, I recall the path taking a slight dip, or perhaps a trip down the stairs. Either way a descent was suitable. The Ripley catacombs reminded me of my sneak peeks at the works of Charles Addams, Gahan Wilson, S. Gross, and other "sick" cartoonists in the off-limits section of my dad's comic strip collection. Gahan Wilson wrote and illustrated an account of a visit to Madame Tussaud's Wax Museum's Chamber of Horrors for Playboy, describing the gore and grue there with horror and delight.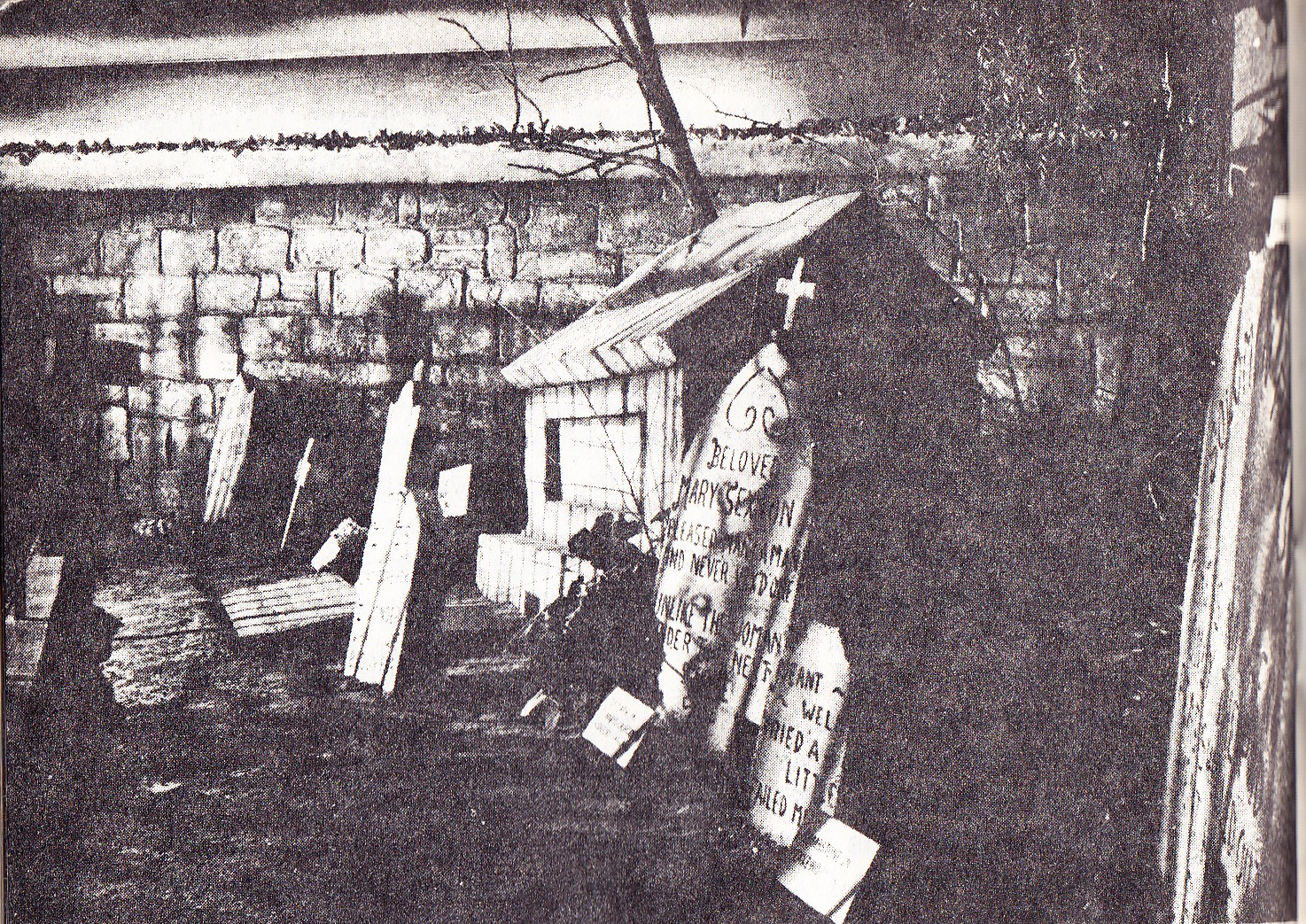 I wanted me some of that, and the Ripley's Catacombs provided a smattering of waxy terror. The area was creepy as hell. Dark and populated by weirdoes and murderers even more disturbing than the sideshow freaks upstairs. Catacomb inhabitants consisted of grim, murderous, or body-punishing dungeon-dwellers. Like the "Sun Worshipper," a dude Ripley saw and drew in the Magar Pir leper colony at Karachi. The Sun Worshipper knelt and stared at the sun for a hour every day. I still recall his mustachioed statue, a square of projected light beamed across its face from his slitted cell window. Then there was Chang T'ung the mummified monk/human sconce whose corpse served as a candle holder in his temple for 300 years after his death. I remember being particularly unnerved by Mr. T'ung's positioning at the end of a short hallway, off to the side. Elsewhere, Ripley loved the hell out of Indian fakirs: the museum had a fellow named Bhumi astride a bed of nails. A year shy of learning about the horrors of John Wayne Gacy's crawlspace, I recall being numbed at the story and image of Buhram (Behram), member of the Thuggee sect and purported strangler of 931 men. Another eye-opener was Ripley's personal replica of the Iron Maiden of Nuremburg. Recent scholarship suggests that the Iron Maiden is just the product of active 19th century imaginations, but the quintuple-penetrated victim seen through the slightly opened door of the device was repulsively convincing to my young mind.
One odd prisoner was Alypius, the 17 1/2″ dwarf who was imprisoned in a bird cage, and looking as happy about it as you can imagine. Nearby was the horrifyingly cramped Cell of Little Ease in the Tower of London, just "four foot high, two feet wide, and 16 inches deep," leaving no room to sit, stand, or lie down. Per the Ripley literature, this was where Gunpowder Plot conspirator and future V for Vendetta/Anonymous/Occupy Wall Street icon was stashed for a time. Fawkes' wax simulacrum looked like he was performing a very literal mime routine.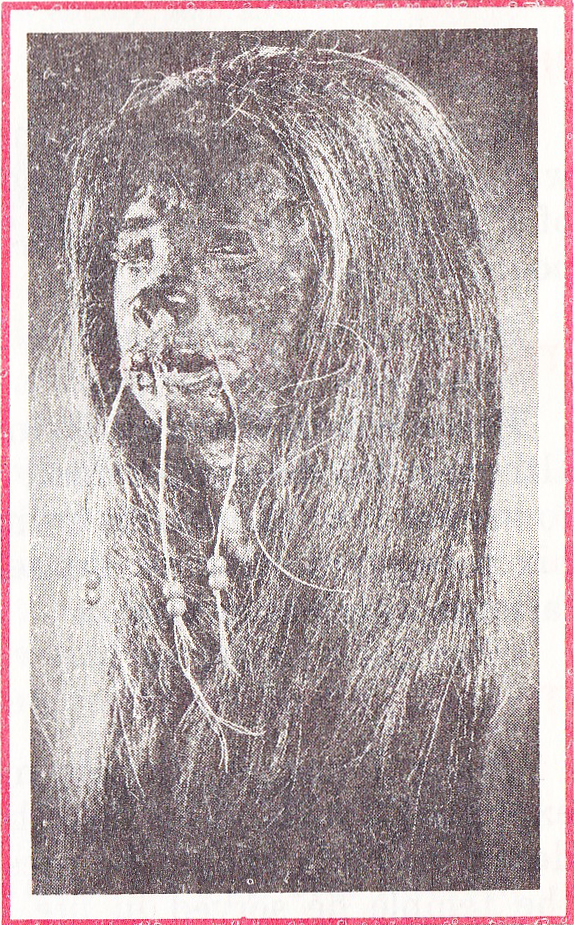 And then there were the shrunken heads—set in their own case like Tiffany jewels, I believe. Ah, the shrunken heads. Ripley loved 'em, and managed to gather up a few before the US forbade further importation. Despite this, the man still got laid. We boys gathered around the tsantsa. I don't know what the girls did. Probably waited their turns. Mummies and grandparents excluded, I hadn't seen many cadavers on display before then, never you mind preserved parts. As I recall they seemed entirely fake, though maybe that was a psychological shield thrown up by my brain. What I really remember is that they looked dusty, desiccated, and monstrous. Relics of a pulpier time.
In the April 29, 1979 issue of the Trib, we find a rare mention of a more poorly recorded areas of the museum—the utterly nuts Witchcraft Gallery. As it turns out, Ripley's bought British Wiccan Gerald Gardner's collection of witchcraft paraphernalia from his high priestess, Monique Wilson, back in 1973, and displayed it at their San Francisco and Gatlinburg, TN, museums. When local religious groups complained about the Gatlinburg "Museum of Witchcraft and Magic," it was quickly renamed "World of the Unexplained." I don't think Chicago got the wax statue of a "skyclad" witch Gatlinburg had, but it was still memorable.
My guidebook makes no mention of the Witchcraft Gallery, which leads me to believe it was a much later addition. Nevertheless, the gallery sticks out in my mind more than any other section. I especially remember its electronic music soundtrack by electronic music composer Richard Kitaeff (no further information available, though a Google search leads me to believe he's running an oriental medicine clinic now) composed of chants, clings, clangs, crashes, beeps, buzzes, whirrs, and chirps. As my fellow Catholic kids and I entered the room—catercorner to the aforementioned indoor graveyard of quippy gravestones—I remember seeing two long display cases and dozens of objects that resembled props from a 70s Italian horror flick or Night Stalker episode. Here, to my goggling chump's eyes were "real" voodoo dolls, "real" curse-flinging devices, "real" lucky charms, and the like. It was like sitting in Lucifer's armory, where he slips into his flak jacket and ass-kicking boots while attaching guns, grenades, and crossbow bolts to his belts with a loud, satisfying "chi-chink" sound. Man, did the nuns rush us out of there. Dad, bless him, let me linger.
Note: The gallery trapped a certain indelible image in my head forever, but that's another story.
Passing through the graveyard, it seemed like my visit to the museum was over before it began. Unless my memory is faulty, it ended ala Barnum with a sign advertising "This Way to the Egress." A fitting and appropriately humbuggy way to end a trip to Ripley's.
******
Endgame
"We do deliver a legitimate museum," former Chicago Ripley's Museum manager Joseph Long told the Trib. Well, it wasn't the Smithsonian, but they tried. Aside from the tourists and daytrippers, the clientele reportedly was half school groups like my own, on "educational trips." That, however, was a mushy description. What the hell kind of educational value did the two-headed calf deliver? What lesson did we learn from Behram? Stay in school? Don't do drugs? Avoid Kali? Perhaps it wasn't disingenuous for the museum to claim it had educational value so much as an attempt to distance itself from its increasingly sketchy surroundings.
By 1979, Old Town had become less "quirky" and "funky" and more "skid-rowey." In an August 3, 1979 column, Aaron Gold of the Trib's Tower Ticker gossip column reported on the Old Town I remember, its fringes descending into a skeezy strip of sex stores, junkies, and closed businesses. But Chicago always finds a way… to make money. The 80s saw a resurgence, Yuppie dough turned Old Town into the genteel, gentrified area it is today. At the time, the museum still had seven years left to it, though, per Gold, 11 "x-rated bars and bookstores" had recently closed.
By this point, museum mentions had diminished to short blurbs in the Trib's summer fun and spoooooooooky things to do on Halloween lists. In 1979, one such section promised both "thrills" and "chills" for a pretty reasonable $1.50 for adults/75 cents for kids 12 and under admission. Later on, current arts and jazz critic for the Tribune, Howard Reich wrote a survey piece, the headline of which asked "What's so Eerie about Chicago?" It covered the usual flapdoodle about Windy City specters like Resurrection Mary and bellowing phantom circus elephants from hell or whatever, at Forest Park's Woodlawn Cemetery. Aside from the tragic and unsolved murders of the Grimes sisters, the only true horrors were Ripley's "shrunken heads, mummies, and instruments of torture" which caused "spines to tingle on a daily basis."
Reich returned February 6, 1981, with a piece on wacky outings with a focus on unusual local museums. For fans of freaky forgotten Chicago, it's heart-breaking. Once again, Reich recalls Ripley fan favorites like the two-headed calf, the world's smallest violin, the White House made of 6,057 dimes, the "circus room," the Catacombs, and the toothpick ferris wheel. Prices had jumped, but you still got your fair share of eccentricity at Ripley's at $3 for adults, and $1.75 for kids. Reich mentioned other, long-gone Chicago roadside wonders as well. Svoboda's Nickelodeon Tavern was a south side pub stocked with coin-operated pianos, calliopes, orchestrions, and the like (more info at the links, if you're a depression-seeking antiquarian). To my black heart's grief I missed out on the Royal London Wax Museum down the street from Ripley's at 1419 N. Wells. This tourist trap featured waxen idols of historical figures, 60s–70s celebrities (Burt Reynolds in his Cosmopolitan centerfold pose is mentioned), royalty, and a slew of goons for their own Chamber of Horrors. If the Chicago Ripley's Believe It or Not! Museum is poorly commemorated, the wax museum is even more so. One Trib magazine article provides tantalizing and grainy images of Frankenstein's monster, Al Capone, and others. Alas.
In 1985, Ripley's Entertainment Inc. was bought by James Pattison (the current owners of Ripley Entertainment Inc.). At the time,  Ripley's had more than 6,000 employees, sales totaled at $1 billion, and the Ripley's Believe It or Not! TV show (hosted by Jack Palance and his daughter Holly) had been on the air for three years. By the mid-eighties, the museum was reportedly still doing okay, but the tourists had tapered off. Old Town was gentrifying into a neat and clean yuppie haven, with the head shops, folk bars, porn palaces, and weirdo attractions vanishing fast. Crate and Barrel, Piper's Alley, Barbara's Bookstore, Up Down Tobacco Shop, The Fudge Pot, That Steak Joynt, and other local businesses that had grown up with the area, were still in business, but probably not with the aid of mummified monks or voodoo exhibits. It seems the Bijou theater is the only remnant of the old weird Old Town, but having a specialized clientele has probably helped.
Suddenly, after just 19 years in business, the museum owners—the Canadian firm of (then-called) Ripley's International in Toronto—wanted see if anyone was in the market for an odditorium, putting the place up for sale for $649,000. A Trib piece explained that their reasons were twofold, citing "the increasing demand for commercial property in the area, and quoting vice president of operations Norman Deska: "It gets harder and harder to find strange things that amaze people… There are only so many shrunken heads in the world." By July 29, Ripley's found a buyer—The Chicago Clock Company (now The Chicago Clock Company & Gifts). Formerly located on Michigan Ave., they planned to turn the building into a clock store/upstairs nightclub. I'm not sure how that worked out for them, but they no longer occupy the property.
Unlike most stories of lost Chicago, the museum's tale isn't punctuated by a wrecking ball. Instead its contents were scattered to the four corners of the earth its progenitor knew so well. The final show was the Ripley's auction, which took place Thursday, August 20, 1987. Imagine a yard sale of the Id. The shrunken heads weren't on the block—so to speak—nor were the other one-of-a-kind curios, like Cleopatra's pastry barge, the toothpick ferris wheel, and the biggest educational hairball in the world. These were packed up and shipped off for storage at the Ripley's Museum in St. Augustine, FL, before (assumedly) being sent to other Ripley's museums. What remained up for bid were mostly props, decorations, and some shopworn exhibits.
Trib interviews with auction participants reveal a happy, lively bunch of aficionados of the bizarre. Edward Allard dropped $220 on John Yeast's gravestone, and the mannequin victim of the museum's authentically fake iron maiden. A photograph accompanying the article shows a chipper Mr. Allard toting his new roommate—whom he referred to as "the gory chick"—down Wells. He picked up a few of the glass panels from the outside sign as well. I was unsuccessful in my attempts to contact Mr. Allard; hopefully, he'll stumble across this article and share his stories. However, one auction participant did turn up online and agreed to an interview.
In 1987, Chicago musician Mark J. Panick (@markpanick) was assistant art director at the Limelight nightclub (formerly known as Excalibur; recently relaunched as The Castle; but once known as the Chicago Historical Society's original location). The auction article describes Mr. Panick and his former boss, Limelight art director Tim Chapman purchasing several statues, including (in his words) "the fat man, the Chinese midget, and the 7-year-old who died of old age," intending to use them for ambience at the two-year-old Limelight. I asked him to fill me in on his experience.
*****
Had you been to the Ripley's Museum on Wells Street before? Any memories of the place or Old Town at the time?
I remember going there as a kid. It was a cool creepy place. I recall thinking the figures were actual bodies covered in wax…which made it more appealing somehow.
What brought you to the auction? What do you remember about that day?
Wild Bill, the manager for Limelight (mine and Tim's boss at the time), read about the auction and he and Peter Gatien decided that we should go and buy up as much cool and freaky (stuff) as we could get out mitts on.
According to the Trib article, you and Tim Chapman purchased 10 wax figures, including "the fat man, the Chinese midget, and the 7-year-old who died of old age." Did you go there with the intent of purchasing those specific pieces?
No, in those days we were always competing with the set dressers for films that were being shot in town and we were often outspent. So we went with the notion that we'd take what we could get. I personally purchased the smallest pick pocket who was some Middle Eastern person who was supposedly imprisoned in a bird cage. I really wanted the bird cage as well but was outbid.
All those wax figures were constructed by an old Italian artisan—they had glass eyes, were very detailed, and the costumes were outstanding. The oddest thing I remember is how every time we placed one of these figures in the glass cases in the club, some drunken frat boy would either smash the glass to get at the figure or attempt to destroy them. We stopped displaying them because of this. There was a theory put forth that somehow they were cursed.
I have to tell you strange things went on in that Limelight, especially at night when everyone was gone. A lot of dead bodies were stored there temporarily after the Eastland disaster and a few people also died in the club. When I took my little figure (which I affectionately called Achmed) home he sat on a shelf. One day I came home to find him clear on the other side of the room with his head smashed open, just like what happened to most of the figures we had in the club. Only this seemed self-inflicted somehow. It creeped the hell out of me and most of my visiting friends as well. I glued him back together and built a little coffin for him and displayed him that way for years. I no longer have him, he was lost in the great Panick diaspora.
Do you remember the others you bought? Of special interest to me, did you get Lie Ch'ung the double-pupiled man?
We also purchased the fattest man and the Chinese cat with the horn, and a few others I cannot remember now.
What did you do with them? How were they displayed?
Limelight had big glass display cases we would decorate in some theme like Childhood (a kid's bedroom, a dentist office, etc.) And the club would hire the unemployable artist collectives like "The Family Plan," to populate the cases and "act"—usually stream of consciousness hilarity ensued. We just injected these items/creatures into the life stream of the installations. Not always with continuity but always weirdness.
Did you pick up any other pieces at the auction?
Just the wax figures. A lot of the set type pieces we were outbid on.
Do you remember who you dealt with at Ripley's? What was the clientele like? Did you know/do you still know, any of the patrons who bought stuff that day?
No, we really didn't know the other bidders/buyers and I no longer recall who we dealt with regarding the purchases.
Do you think Excalibur still has those wax figures somewhere? If not, do you know what happened to them?
I wouldn't be surprised if one or two of the bodies still exist somewhere up in that attic that we used as art direction offices. Most, if not all, of the heads sadly were systematically smashed by drunken clientele. The only one that survived intact was the Chinese horned man, as I recall.
*****
I knew it was a false hope, but I prayed to the ghost of Robert LeRoy Ripley that I'd be confronted with one of the former Ripley's Museum waxworks in Excalibur's basement or attic. How wonderful a bookend it would be for this piece, standing eye to eye to eye to eye to eye to eye with Loo Min in some cobwebby corner. But an e-mail to Castle management told me there were no statues to be found there. A shame.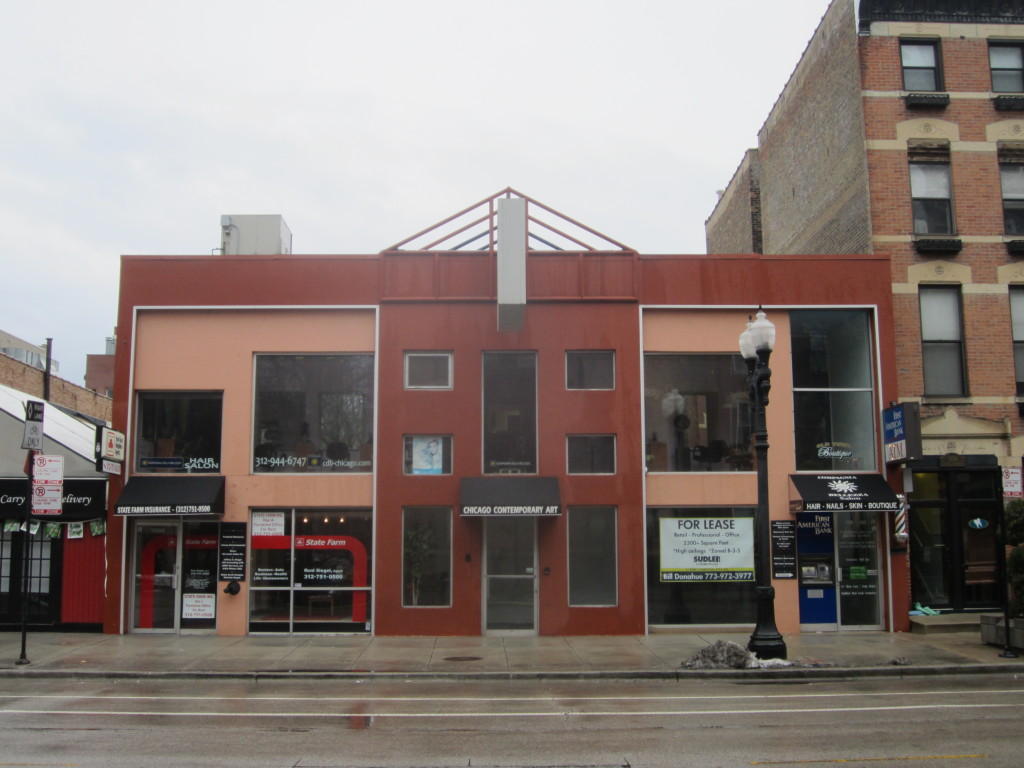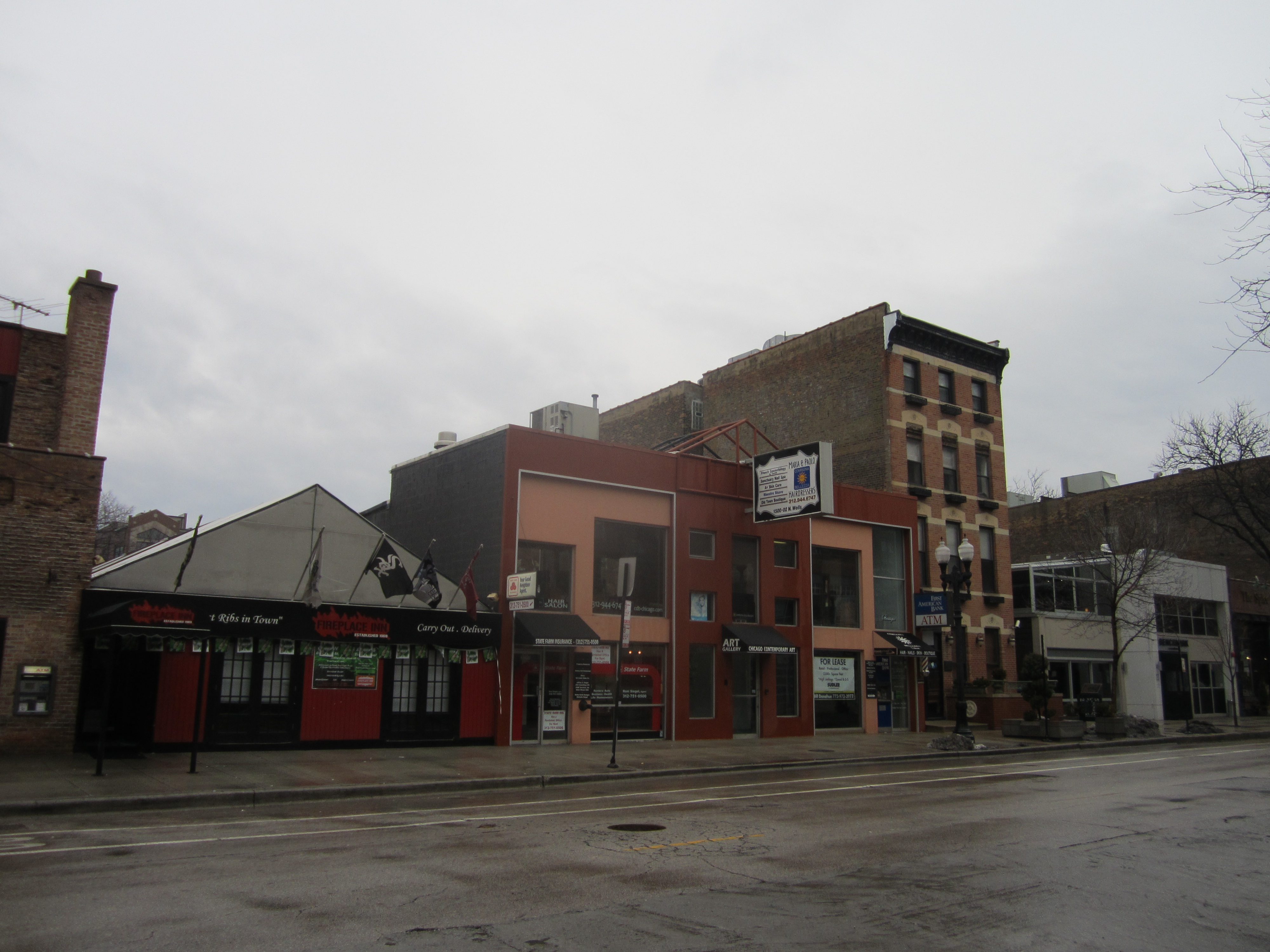 The museum's building still stands. They've retained the name of the "Believe It or Not Building", but that's as interesting as it gets. Stripped of its exhibits, it's a bland and unremarkable space. Its 7,259 square feet were adjusted to house small businesses like the hair and nail salons and insurance agents currently conducting business there. While I've taken shots of the exterior, I've yet to go inside. I imagine it would be disappointingly unrecognizable absent the faucet, graves, and wax works.
*****
I Wanted to Believe
Perhaps the Chicago Ripley's museum's closing was a mercy killing.
If there weren't enough shrunken heads in the world to bring in the marks and rubes in the late 80s, how would the museum have fared in the Internet age? Most of the museum's shocks and wonders in 1987 would be positively anticlimactic today. Seeing a potato chip shaped like a treble clef was quite something in 1968. Now Jesus, Mary, and Elvis are turning up in foodstuffs everywhere. The longest chain of gum wrappers (90 feet, 2,500 wrappers, started by Bruce Kidd age 12 in 1967, and finished by his good friend John Collen when Kidd died of cystic fibrosis in 1968) was something else. But while Collen's 300 hours of work are touching, they're pathetically brief beside the current record-holder, Gary Duschl's 71,000 feet (and extending) gum wrapper serpent. Cleopatra's pastry barge seems old hat to any any viewer of Ace of Cakes. Berhram and other human monsters of the Catacombs may have had the (unverified) kill counts, but pale beside boogeymen of recent memory like Jeffrey Dahmer or Anders Breivik. Moreover, Ripley hired fact-checkers, but one suspects a good story usually won out over veracity. Captain Savain, the supercentarian who allegedly died in a Russian jail at the age of 144 was undoubtedly a fraud. What's more, he was put to shame by the verifiably venerable Jeanne Louise Calment, 122 years and 164 days.
And a 90-year-old orange and double-leaded pencil? What, and furthermore, why?
Was the museum so very remarkable? Perhaps only to my suburban kid's eyes. At age 11 or 12, my life had already achieved a sameness and commonality of occurrence, and the weirdness of the Ripley's Believe It or Not Museum was a revelation. I knew what each day would bring, and while life had its wonders, let us admit to ourselves that we can't feel awe at the mundane and familiar without trying too hard. Perhaps we can see God's face in a child's smile, a rainbow's colors, or a flower's bloom—but when you think about it, that's a whole lot of God faces. Sometimes we don't want to see God's face. Sometimes we want to see the Devil's. Strengthen my belief (or not), oh ghost of Robert L. Ripley. Bring me shrunken heads and mummified oranges, however indistinguishable they may be from one another. Fetch hither the poly-occular Chinese ambassador and iron maidens. Send in the suicidal clowns.
Note: Comments and memories of the museum are encouraged, but I've shut off the comments feature due to spam. please contact me at chicagosteppes@mrdankelly.com.
—by Dan Kelly