Gaar Williams, Chicago Cartoonist by Way of Richmond, IN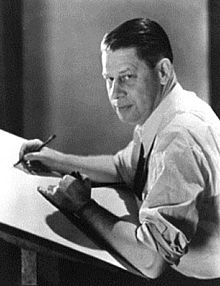 My parents recently moved out of their southwest suburban home and into smaller digs nearby. While they've given away or moved most of their worldly possessions out of the old house, my dad's den—a 30 x 30 foot room he created by bisecting our basement with a wall—has yet to be fully cleared out of his sizable collection of books, movies, and other things. Dad said I could take what I wanted, which I've been doing for the past two years (it's a large collection), and we plan to donate the rest to whoever will take several hundred paperback cartoon strip collections, hard cover classics, coffee table books about war and art, and such like. It's been a long, slow job,  but along the way I've made some fun discoveries.
One of these was a hardcover book, minus its dust jacket and slightly water-damaged, called Among the Folks in History. It's a collection of single-panel comics created by cartoonist Gaar Williams. I didn't recognize the name, but his style was reflective of cartooning in the 20s:
* Lots of detail—every stick of furniture, gas jet, and piece of horse tack is rendered.
* A dozen dialogue balloons often issuing from characters in every part of the panels.
* Archaic and impenetrable expressions and interjections popped up repeatedly ("If you want those skirts to grow longer, girl, you better stick some sugar in your shoes!").
* And, of course, the occasional bit of racism or sexism history's folks chortled over back then.
Among the Folks in History's premise was simple. Williams illustrated his memories of the good old days in Gilded Age Richmond, IN. Men with handlebar mustaches, bowlers,  and sleeve garters, and bouffant-bearing women clenched into swan-bill corsets interacted with newfangled contrivances, played mandolins in the parlor, chewed the fat around pot-bellied stoves, rode horse-drawn wagons to sundry fetes, and fretted over now obsolete customs and manners. Williams had a very nice upbringing in affluent Richmond where everything in the house undoubtedly rested on a lace doily. Everyone in his strips is nattily dressed, hanging out in barber shops, noting the new milliner in town, or gathering on the porch in the late evening to watch the night crocuses bloom. The jokes are less corny than opaque for lack of modern context, but then again the strip is less comic and more a series of memory nuggets created to remind folks in the 20s and 30s about those less hectic days.
Williams himself was one of those individuals greatly celebrated in his time but mostly forgotten now. He attended the Cincinnati Art Academy and the Art Institute of Chicago. Eventually, he became the staff artist for the Chicago Daily News and later the Indianapolis News as an editorial cartoonist. It seems he didn't like the work too much—though sources indicated he most often took the side of the "common man" in his cartoons—and later moved to Chicago, finding a job at the Tribune.
Among the Folks in History became his new gig (though he was also the creator of the strips "A Strain On The Family Tie," "Silky," and "Zipper"…none of which you've probably heard of unless you're a comic historian…which I am not). Williams' work appeared in 39 newspapers, until his death at age 54, June 15, 1935, when he suffered a cerebral hemorrhage in his car while  parked on Michigan Ave. His wife and a female friend rushed him to nearby Passavant Hospital (which eventually merged with Wesley Memorial to become Northwestern Memorial), but he passed away only hours later. Accounts indicated that his death came as a shock, and he was greatly missed by his family, friends, and peers.
His legacy, sadly, did not endure. While the work of colleagues like Martin Branner (Winnie Winkle), Harold Gray (Little Orphan Annie), Frank King (Gasoline Alley), Sidney Smith (The Gumps), Frank Willard (Moon Mullins), and his friend, the "Dean of American Cartoonists", John T. McCutcheon (who wrote a nice foreword for the collection) has since become part of the American historical and cultural landscape, Williams' name and strips can only be met with a puzzled "Who?" (Side note, check out this amazing Tribune promotional video of Williams and the above-mentioned Tribune cartoonists at work, presumably in the Tower. Also, prepare yourself for the unsettling vision of the real-life fellow who inspired Gasoline Alley's Walt Wallet).
Too bad. the man did nice work. And for the purposes of this blog he provided a few interesting "outsider" views of the Windy City. The Columbian Exposition figures into several strips, though it's mostly spoken about by the characters, either on their way to the fair or newly returned. However, Williams provided one nice view of the Statue of the Republic in the Court of Honor, while one of Daniel Chester French and Edward Potter's bulls and goddesses stands by (more here on that). Click to enlarge.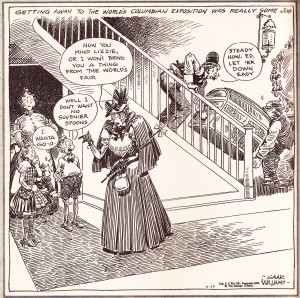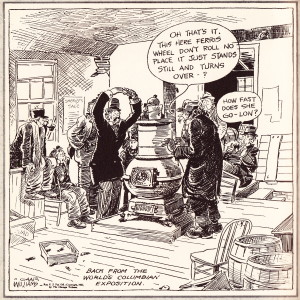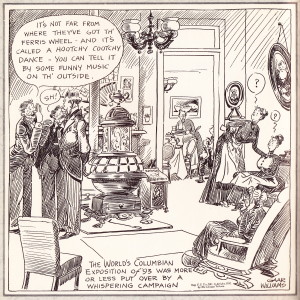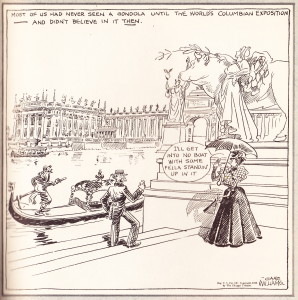 I do wonder which "castle" Williams' referred to in the below strip. Most likely the digs of Mr. and Mrs. Potter and Bertha Palmer, formerly on 1350 N. Lake Shore Dr.? Or maybe Beverly's Irish Castle, now the Beverly Unitarian Church? I may search for more comics by Mr. Williams to see what other city scenes he might have rendered.