Uptown
"Here's where I make Pittsburg look like a million dollars worth a sunshine!"
Later note: I was unaware that the Chicago History Museum has a Chaplin in Chicago exhibit taking place right now. Check out this blog post!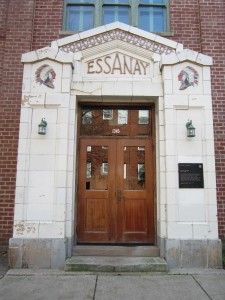 The Essanay Film Manufacturing Company building is part of Chicago's faraway past as a film capital. Established first on Wells Street, in 1908 the company moved to 1333-45 W. Argyle Street in the neighborhood of Uptown. The main building, now a part of St. Augustine College, isn't particularly striking, save for the entryway, a gaudy little structure in white, topped by two relatively politically correct Native American heads and the company name (which was formed by the last initials of founders George K. Spoor and Gilbert M. "Broncho Billy" Anderson.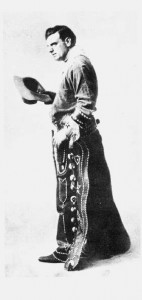 Yippee Ki Yay. Broncho Billy in full regalia.
Essanay produced multiple films of varying quality, many of which are lost, and were noted for producing silent films, early cartoons like the forgotten and weird Dreamy Dud (seen here psychologically scarring the children of 1915 into not smoking), and introducing the first real cowboy star (Mr. Anderson, in case you couldn't figure that out through his nickname). The studio also gave performers like cross-eyed vaudevillian Ben Turpin and Chicago girl Gloria Swanson their big breaks, though Turpin had to serve as both an actor and the studio's janitor at the time. See him here in the Essanay short Mr. Flip humorously molesting sundry women with unusual hairstyles.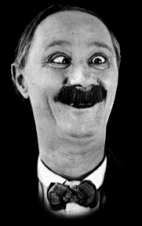 Ben Turpin will see you in your nightmares tonight.
Essanay was most famous for employing up-and-coming genius Charlie Chaplin as an actor, writer, and director, starting with the comedic short His New Job, filmed with Ben Turpin as second banana.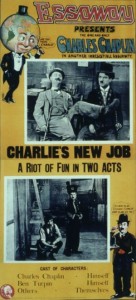 Chaplin didn't stay long, owing to financial and creative differences with the management (they failed to pay him a promised $10,000 bonus and frequently chopped up his films to make them more marketable). Nevertheless, it was an opportunity for him to expand on his skills, learning the tricks of this business called show which he'd use to better effect in future films. Eventually, according to this article, he finally left the Windy City. The weather was too changeable to suit Chaplin's perfectionism. Furthermore, it was, in the Little Tramp's words, "too damn cold."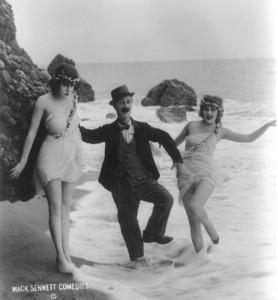 Ben Turpin with two of Mack Sennett's "bathing beauties."