Charles W. Kallal Photo Discovered!
Many thanks to Steven Szegedi, archivist and special collections librarian at Dominican University, who tracked down this photo showing camera-shy Chicago City Architect Charles W. Kallal at the …"blessing of Mother Emily Power Hall, Rosary College, 1 October, 1922." Archbishop George Mundelein can be seen at the center, while Kallal stands—with impressively good posture—at far right. Click the photo to get a closer look at the man. It wasn't until I sized it up a tad that I noticed that Kallal wore glasses. Incidentally, Steven asks that if anyone out there can identify the other men in this picture, please let him know (or just post it in the comments).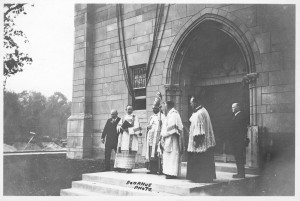 "Photograph 113402, Buildings and Grounds, Dominican University Archives and Special Collections"
 Added bonus: Kallal's bathhouse at 4501 N. Clarendon Avenue. It doesn't look this awesome anymore, by the way.